The Fresh Beat Band

Format

Children's television series

Created by

Nadine van der Velde
Scott Kraft

Directed by

Scott Kraft

Country of origin

United States

Season count

3

Episode count

Running time

23 minutes

Original channel
The Fresh Beat Band (formerly The JumpArounds) is an American live-action television series originally airing on Nickelodeon. The series premiered on August 24, 2009 and ended on December 7, 2013. It is aimed at children ages 2 and up.
Characters
Main article: Characters
The series focuses on four band members (Twist, Kiki, Shout and Marina). Other characters include Melody, Ms. Piccolo, Harper and Reed.
Episodes
Main article: List of The Fresh Beat Band episodes
Three seasons of the series were produced, in addition to a stand-alone concert special.
Name change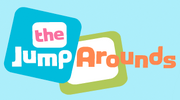 Several months before the series premiered, Nickelodeon and Noggin aired music videos featuring the Fresh Beats. At this time, they were known as The JumpArounds. A JumpArounds minisite was released on NickJr.com before the name was changed to The Fresh Beat Band during the summer of 2009. The show aired 60 episodes (56 regular and 2 double-length episodes) over 3 seasons. In December 2013, it was announced that the show would not be renewed for a fourth season.
Fresh Beat Band of Spies
For in-depth articles and more on the spin-off, see Fresh Beat Band of Spies Wiki.
In 2015, Nickelodeon decided to continue the characters from the original show through an action-adventure cartoon. In the show, the Fresh Beats are now a group of spies who solve wacky mysteries in their town using their individual talents and cool gadgets.